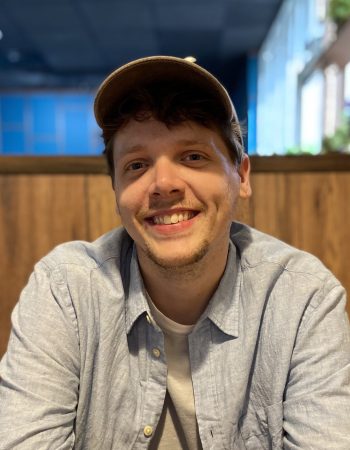 Youth and Family Ministries Director
830-693-2253
To break the ice, I figured I would write a little bit about myself as well as some of my interests. For starters, I grew up in a small town outside of Galveston island as a pastor's kid. I spent most of my youth playing basketball, golf or watching just about every movie ever filmed. I always had an interest in my creative side, often drawing designs or coming up with fun ideas for me and my friends.
After high school, my interest in design continued where I studied but never finished a degree in architecture/design. I found my way over into the Highland Lakes area in 2018 when I took a leap in the dark and began working in foreign grounds, camp ministry. During my first summer in the area I fell in love with the Hill Country. And after spending a year here doing a discipleship program, I knew God had a reason for me to stay. Outside of my time with Camp Peniel, I also volunteered with Young Life. Through Young Life, my desire for working with students grew and grew and I knew why God called me here.
I am pleased to say that that desire & calling led me here to you at St. Peter's Lutheran. Outside of my ministry work, I spend most of my free time building relationships with my friends, playing and discussing basketball (signed, a sad Rockets fan), still attempting to watch every new movie that releases, and exploring/hiking the beautiful surrounding area God has gifted us as well as traveling to new places across the country. I absolutely love venturing into the mountains of Colorado or packing my bags and traveling to Boston on a cross country road trip to drop a friend off at college (ask me about either of these and I will talk your ear off). These things, and so much more, I am excited to share with you all. I am very much looking forward to sharing life with each and every one of you, as well as learning and growing with y'all.