Lutherans have worshiped and witnessed in the Marble Falls area since 1913. Through the dedicated effort of Rev. Calvin O. Goerdel of St. James Lutheran Church, Llano, Texas, and twenty-eight charter members, the congregation was formed, chartered and accepted as a member of the American Lutheran Church (ALC) in September of 1960. The new congregation received financial support from the Hill Country Mission Society, an organization of Lutheran Churches in the Hill Country, to make possible the construction of a new parsonage and the sanctuary.
St. Peter's called its first pastor, Rev. Lawrence R. Juull in 1961. The first service was held in the new sanctuary, constructed from locally quarried granite, on August 5, 1962. Dr. Vernon A Mohr, President of the Southern District of the American Lutheran Church, delivered the sermon at the Dedication Service on September 16, 1976. St. Peter's also received financial support form the ALC Department of Missions until 1976. The following pastors continued the ministry of St. Peter's from 1964 – 1979: Rev. Edward G. Miller, Rev. Wayne Jarvis, Rev. John A Putsch, Rev. Charles DeHaven, Rev. David L. Lilley and Rev. Gary Haaland.
ADVENTURES IN FAITH...BUILDING FOR THE FUTURE
Rev. E. David Henry became pastor of St. Peter's in 1980 and retired in May of 2010 with 35 years in ordained ministry. In 1982, formal planning began for new facilities to meet the needs of a growing community of faith. In May 1984, the congregation approved the "Adventure in Faith…Building for the Future" project, and on May 18, 1986, the new granite sanctuary was dedicated. The original building was then renovated to utilize the need for church nursery, Sunday school classrooms, fellowship hall and kitchen. In 1988, the American Lutheran Church and two other national Lutheran churches merged to become the Evangelical Lutheran Church in America (ELCA). St. Peter's is a member of the ELCA, the Southwestern Texas Synod, and the Hill Country Conference. The congregation supports special missions and helping programs at home and abroad.
CELEBRATING GOD'S GRACE...BUILDING IN FAITH
An additional Sunday morning worship service was added when Rev. Rachel S. Larson joined as St. Peter's associate pastor from 1997 until 2001. In April of 1999, St. Peter's celebrated the retirement of the debt on the new sanctuary. Then the congregation began formal planning for additional facilities for Christian Education, St. Peter's School and administration offices. New construction of an education/administration facility started in December 2001, and the formal dedication of the facility was held on November 10, 2002.
SHARING GOD'S GRACE...BUILDING THROUGH MISSION
In September 2002, Rev. Danielle Moore Casey, the 2002-2003 intern pastor, was installed as the Associate Pastor. During her service as Associate Pastor, Rev. Casey met with members of the Southwestern Texas Synod staff and Shepherd of the Hills Lutheran Church in Austin to discuss the possibility of supporting a new mission start in the Spicewood and Bee Cave area. After much research and planning, Spirit of the Hills Lutheran Mission held its first worship service on April 6, 2008. Pastor Casey and Pastor Heidi Schwerdtfeger-Jones of Shepherd of the Hills served as lead pastors for the following year. In April 2010, Spirit of the Hills celebrated its second anniversary and honored St. Peter's for their support.
LIVING GOD'S GRACE...BUILDING ON THE ROCK
On September 26, 2010, St. Peter's Lutheran Church celebrated their 50th anniversary and was honored to have Bishop Mark S. Hanson presiding over both services. A reception luncheon was held at the Lakeside Pavilion in Marble Falls. St. Peter's has a number of active groups functioning within the congregation, including the Altar Guild, St. Peter's Lutheran Active Teens (SPLAT), Superkids, Women of the ELCA, Worship Choir, BYOB, annual summer Vacation Bible School, Parent's Morning Out, "Snip-its" quilting group, as well as numerous Bible study groups, and fellowship and service groups.
In 2010, Pastor David Henry retires and on April 22, 2011, Pastor Casey was installed as the Senior Pastor.  Pastor John Stern is soon hired as an interim Associate Pastor while the congregation goes through the call process.  On June 3, 2013, Pastor Harold Vanicek is called as the Associate Pastor.
SEEING GOD'S GRACE...BUILDING TO BLESS
In 2014 the congregation purchased the middle property across Elm Street between the SPLAT House and Choice Medical (renter) property (on 1431).  In 2015, a LISTENING TEAM was formed with the goal of listening up, out, and in to discern where and how God is leading us next to grow, love, and serve.  Members of this team interviewed helping organizations in the Highland Lakes area and also small groups within the congregation to assess future community needs.  From the Listen Team came two recommendations: 1) Form an Advisory Team to help strengthen and clarify the structure and committees and responsibilities of the congregation/staff partnership in ministry, and 2) to move forward with a building campaign to update parking, our Fellowship Hall, storage, and general needed maintenance to be a vibrant congregation with facilities to share with the larger community.  The Advisory Team spent a year helping put on paper both the structure/function of congregation as well as outline on paper purpose and goals of committees, chairs, and council liaisons.  Pastor Casey's 2017 sabbatical was focused on church organization and congregational growth in a program-sized church.  A Facilities Team was formed to work with an architect on what building needs were primary and to outline a program for a campaign.  The Building To Bless Capital Campaign began in 2018 and was a great success, receiving over $1,000,000 in commitments!
TRUSTING GOD'S GRACE...REBUILDING AND RECONNECTING
In the Fall of 2018, Pastor Casey took a new call to Triumphant Love Lutheran Church in Austin, TX.  The fall of 2018 was a transition time and Pastor Greg Gaskamp was brought on board as a Transition Pastor to help St. Peter's have conversations about how staffing going forward should look like.  In October 2018, the area experienced a flood of the Colorado River and many members + 100's of homes in the Highland Lakes were flooded.  The Highland Lakes Crisis Network emerged out of this disaster and has been about helping those in crisis since then and is an active participant in the Marble Falls Ministerial Alliance of pastors.  Pastor Greg stayed through the summer of 2019, and Pastor Vanicek was called as the sole pastor of St. Peter's in July of 2019.  In 2019, St. Peter's purchased the house behind the church at 1006 Elm Lane.  This house extended our campus and provided a rich outdoor and indoor space for future ministry use.
In early 2020, the COVID pandemic impacted local and world rhythms and lives, including church life.  St. Peter's paused in-person worship in March, moving to an online worship service that was made up of all the gifts of the congregation in sharing prayers, reading of scripture, sharing the peace, etc.  By Pentecost 2020, over 140 people and 80 families helped in some way to provide worship online.  Live-stream worship technology was installed following Easter so that after Pentecost we moved from pre-recorded worship to livestream worship, and in-person worship resumed in September 2020 alongside the live-stream option.  St. Peter's also had the opportunity to take a step back from the original Building to Bless design and look at how our project should incorporate the changing church landscape.  A master campus plan was developed for all our property and facilities and money was moved to also provide enhanced outdoor gathering spaces, as well as integrated rooms with Zoom online meeting technology, and still be able to update the Fellowship and our other original goals.
In June of 2019, Olivia Cheesman joined staff as our Music Director, taking over and more the choir director role Don Trapp faithfully held for 10 years.  Summer 2019 also saw Vonda Orton take over the role of Youth Coordinator from Pam Walton.  In the summer of 2020, Craig and Vonda Orton both left staff to return to teaching.  In the summer of 2021, Scott Cain joined staff as our new Director of Youth and Family Ministries.  In the spring of 2022, Cindy Struchen joined staff as our Senior Coordinator.  In the summer of 2022, Pastor Lisa Hoelscher joined our staff as Associate Pastor.  A lot of rebuilding and reconnecting continues as we seek to live faithfully and boldly to live and share God's grace with all.
The approximately 450 members of St. Peter's Lutheran Church of Marble Falls continue to make up a friendly, caring, generous, and creative worshiping community – a source of spiritual growth and Christian fellowship for the Highland Lakes area.
We invite you to join us in the next chapter in the story of God's Spirit at work through St. Peter's Lutheran Church!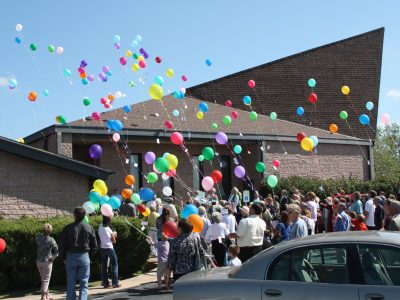 50th Anniversary Worship and Celebration