Ministry Scheduler Pro - Overview / How does it work?
Ministry Scheduler Pro (MSP) is an automated worship volunteer scheduler that works with your schedule in the ways you would like to participate in worship (lectoring, ushering, communion assistant, acolyte, etc.)  We typically schedule about 3 months at a time, so every three months you will receive an email asking you to note your away dates during that date window for you and your family.  Confirm the ways you and your family want to participate and help lead worship.  And, that's it!  MSP will take everyone's schedules into account and create a master schedule that works for everyone.  CLICK HERE TO SEE THE CURRENT SCHEDULE.  You will then receive an email with your serving dates and roles.  You will also receive text reminders the week before.  You can request a sub if needed.  We understand that schedules do change.  You can also claim a "sub request" for another.  MSP is a tool that helps us worship as one body of Christ together.  Please contact Peyton in the church office if you have any specific questions on using MSP (830-998-4952).
How to Use MSP (website and phone app)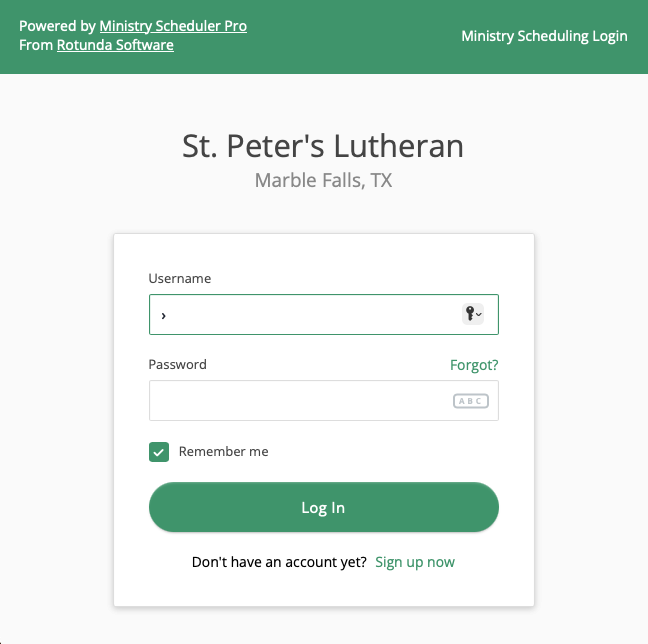 If you don't have an MSP login already, or are new to serving in worship at St. Peter's, sign-up for a MSP account on our MSP Web Terminal page.  Here you will be asked basic contact information, and then your preference ways to serve, away times, and your preference for reminder frequency when a Sunday you are serving is near.
If you already have an MSP login, CLICK HERE to login to the MSP web terminal.
You can also use the smartphone app in the Apple and Google Play store.  Simply search "Ministry Scheduler Pro."  All the features of the website portal are in the app, in an easy to use way.  NOTE: The app is a great resource for easily requesting and accepting subs for upcoming worships.
When using the MSP app for the first time, it will ask you for the "organization ID" or the church city and state.  Fill in "Marble Falls" for city and "Texas" for state.  St. Peter's will be one of the churches listed.  Select St. Peter's and proceed with your login credentials.  If you don't recall them, see below on how to reset your password, or you can call Peyton in the church office to help you login.
Forget your login info?
Note that your login username is your email.  You can reset your password if needed on the MSP web terminal page.  And, as always, if you get stuck or have questions, don't hesitate to contact Peyton in the church office (830-998-4952).