Baptisms
We believe that when we are baptized we are adopted into God's family and washed into the life with Christ.  Baptism invites to see at work in our life the Spirit of God who has been with us since our first breath.We center baptism on God's action and promise-making (not our own).  Check out Acts 8:26-39 with Philip baptizing the Ethiopian.  Because of this, we believe that people of any age (newborns on up!) can be brought to the waters of baptism.  Baptism is God's Word and Spirit + water and us.  In baptism, we are given a reference point on what grace and unconditional love feel like.  In baptism God joins us to Christ's death and resurrection, and what God does never washes off.To sign up or inquire about a baptism, please contact the church office at 830-693-2253.  One of the pastors will be in contact with you to answer any questions and schedule a date.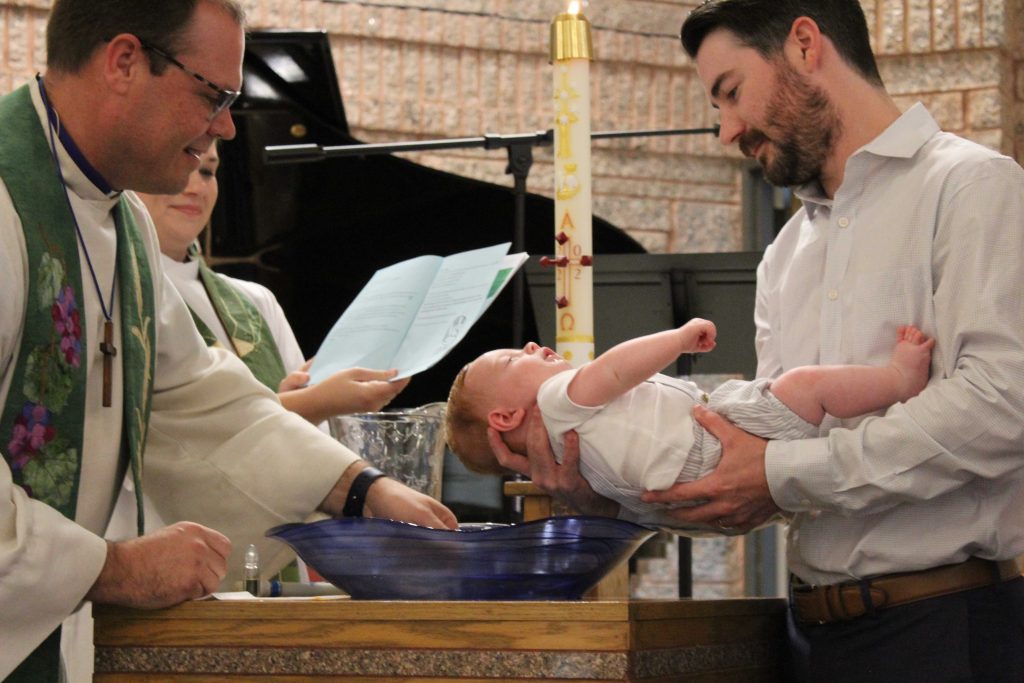 Weddings
The covenant of marriage is one of the most important promises that two people will ever make to one another in their lifetime, and at St. Peter's we want to get your relationship started surrounded by the love of God, family, and friends.
If you are interested in St. Peter's as the site for your wedding ceremony, contact us at the church office (830-693-2253). We would love to arrange a tour of the building, so you can get a feel for our sanctuary and facilities.
Our pastors will be more than happy to officiate your wedding and provide pre-marital counseling classes.  The premarital counseling classes are offered through Prepare-Enrich - a tool to help couples learn about each other's strengths and growth areas.
Funerals
At St. Peter's, we believe that in our baptisms, we were promised that not even death can separate us from the love of God.
If you have recently lost a loved one, St. Peter's Lutheran Church extends to you our prayers and our most heartfelt condolences.  The loss of those nearest to us is never easy, but our pastors, staff and dedicated volunteers will walk with in your grief - as Jesus does for all of us.
If you would like to have a funeral at St. Peter's, please contact us and your funeral director to make the necessary arrangements.  Please use the funeral and worship planning links in preparation for meeting with the pastor and giving thanks for your loved one.